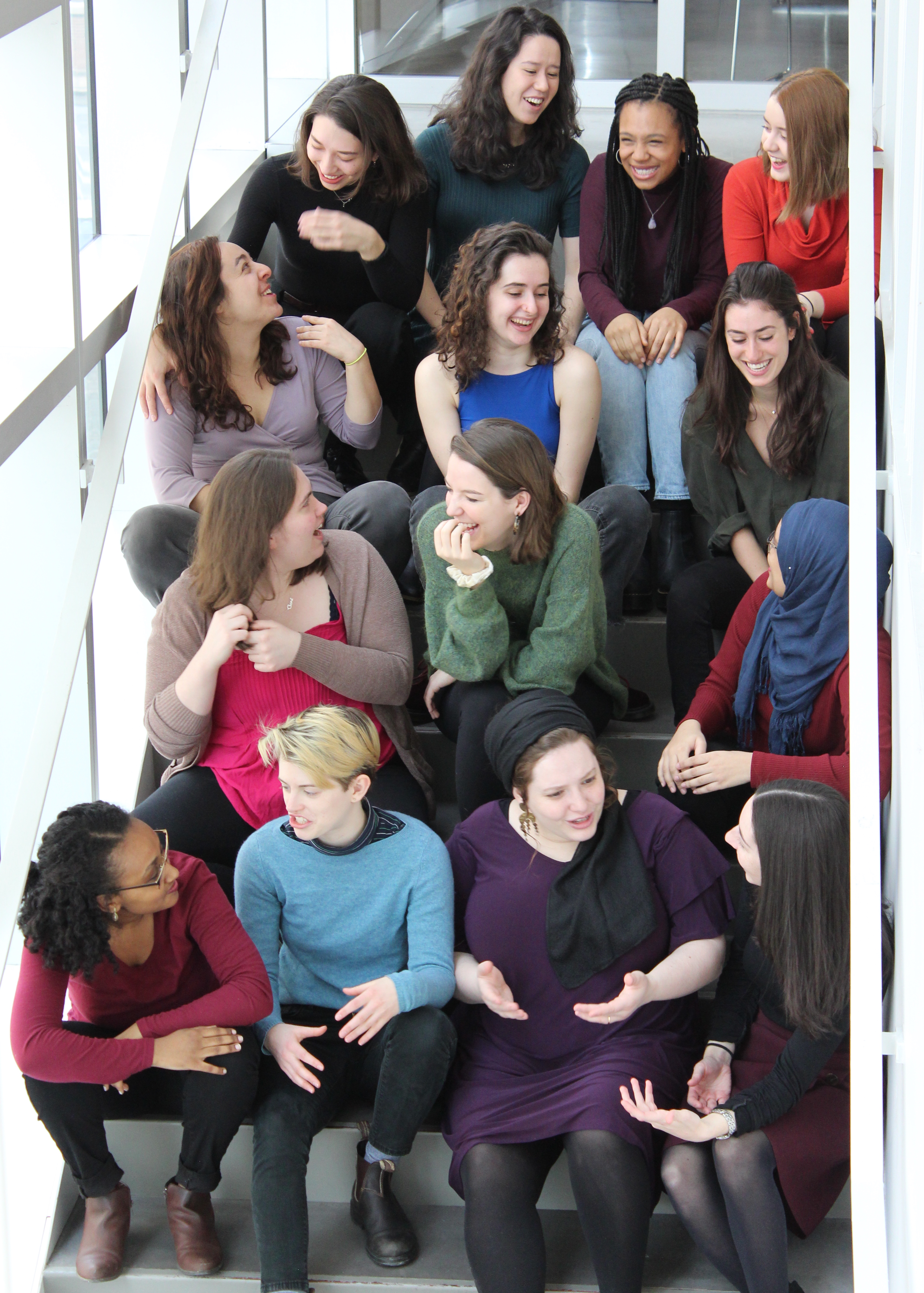 Speaking Fellow Application- Spring 2020!
Applications are closed
Speaking Fellows are a team of specially selected and trained Barnard students who work with other students on their presentation and class discussion skills. Speaking Fellows are "attached" to courses across the disciplines for which they create and run customized workshops of up to eight students.  They also staff the Speaking Center for one hour per week throughout the semester, and meet as a group every week for continued training and workshop development.  
Speaking Fellows helps students find, shape, and use their intellectual voices (what we call their "speaking ethos"). We do this by promoting intellectual friction: academic disagreement through respectful debate and thoughtful argumentation.  By experimenting with language and structure, students actively engage in their own thinking processes, getting to the bottom of what they want to say and how they want to express those ideas to others.
If you have any questions about the application process or about the program in general, please contact Pam Cobrin (Director; pcobrin@barnard.edu), Daniela Kempf (Associate Director; dkempf@barnard.edu), or DaMonique Ballou (Coordinator; dballou@barnard.edu).
Tips for Applying (Virtually)
Frequently Asked Questions
Students in their first or sophomore years are eligible to become Speaking Fellows. Applicants are encouraged to sign up for Speaking Fellows workshops and one-on-one sessions before applying to develop an appreciation for what Speaking Fellows do.
We are looking for effective public speakers, but equally crucial is your ability to connect with other people, and a genuine wish to help others succeed. Candidates should have excellent leadership, team-building, and interpersonal skills, as Speaking Fellows work highly collaboratively among themselves, as well as with students in workshops and one-on-one sessions. We encourage students of all majors to apply.
Speaking Fellows are required to take a semester-long, 4-credit training course in the Fall called "Rhetorical Choices: The Theory and Practice of Public Speaking," co-taught by Pam Cobrin (Director, Writing and Speaking Programs) and Daniela Kempf (Associate Director, Speaking Program). Below is the course description:
Speaking involves a series of rhetorical choices regarding vocal presentation, argument construction, and physical affect that, whether made consciously or by default, project information about the identity of the speaker. Every time you publicly speak, you interject yourself into the cultural fabric of your/our world. In this course we will explore the ways in which public speaking has been imagined and theorized in American culture; the relationship between the use of language in spoken and written rhetoric; the technical skills that promote effective public speaking and theories about public speaking and peer-to-peer interaction.
Yes, we earn a $1050 stipend each semester for working 70 hours. That's $15 an hour!
No, that's not necessarily what we're looking for. Speaking Fellows need to be great listeners who can adapt in the moment to meet the needs of students seeking help. At our core, we are peer educators who are passionate about public speaking. We work hard to improve our own public speaking skill-set, but that doesn't mean we're all naturals.
Speaking Fellows dedicate a minimum of 70 hours per semester to the program after completing the training course. These hours are broken down in weekly one-on-one's in the Speaking Center, mandatory weekly staff meetings, historically, from noon to 1:45 pm and workshops for attached courses.
Other than that, our workshops, class visits and meetings are scheduled individually by us. We can work around our academic schedules, setting aside weeks we can work a lot and weeks we can't. Speaking Fellows usually work 5 hours a week on average.
Yes! It is a unique chance to work closely with the Barnard community and to truly make a difference. It's also an opportunity to join a community of Barnard students and alumnae who are passionate about speaking. The job is fun and full of perks.