Become a Speaking Fellow
Speaking Fellows are a team of specially selected and trained Barnard students who work with other students on their presentation and class discussion skills.
Applications open in the spring semester. Sophomores and Juniors are eligible to apply! Learn more about how to become a speaking fellow and when we release applications here.  
Barnard Speaking Fellows
The Barnard Speaking Center aims to foster connection through dialogue, listening, and active engagement. Speaking Fellows help their peers tackle challenges such as clarifying presentations and apprehension towards speaking, with the belief that there is not one type of "good speech." 
Request a Speaking Fellow
At faculty request, Speaking Fellows host workshops for students in a given course. Fellows host workshops on how to participate in or lead class discussions, crafting effective presentations, or senior thesis presentations. Fellows can also develop more personalized workshops for a given course.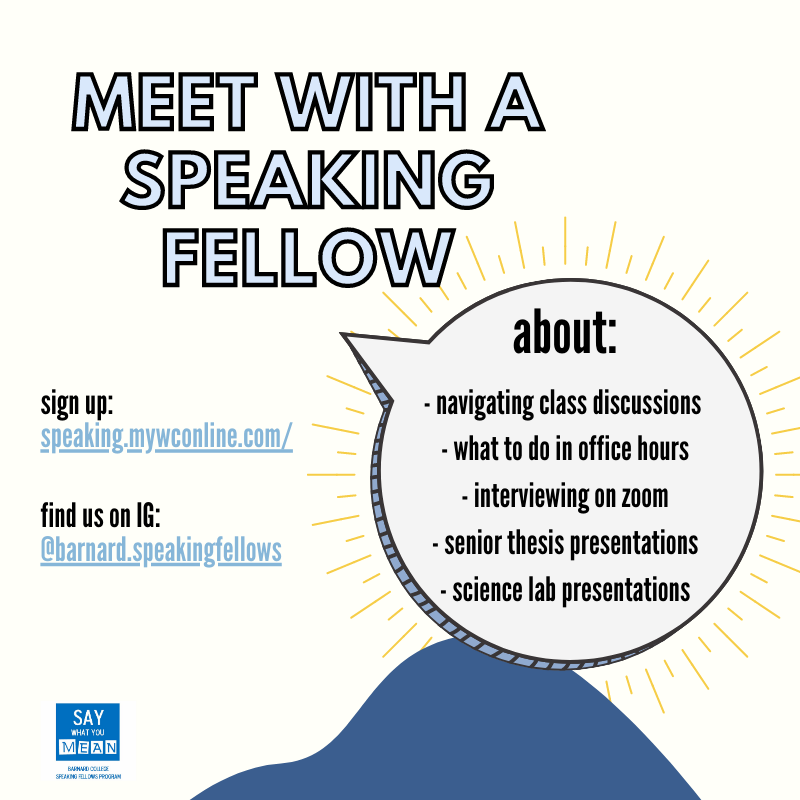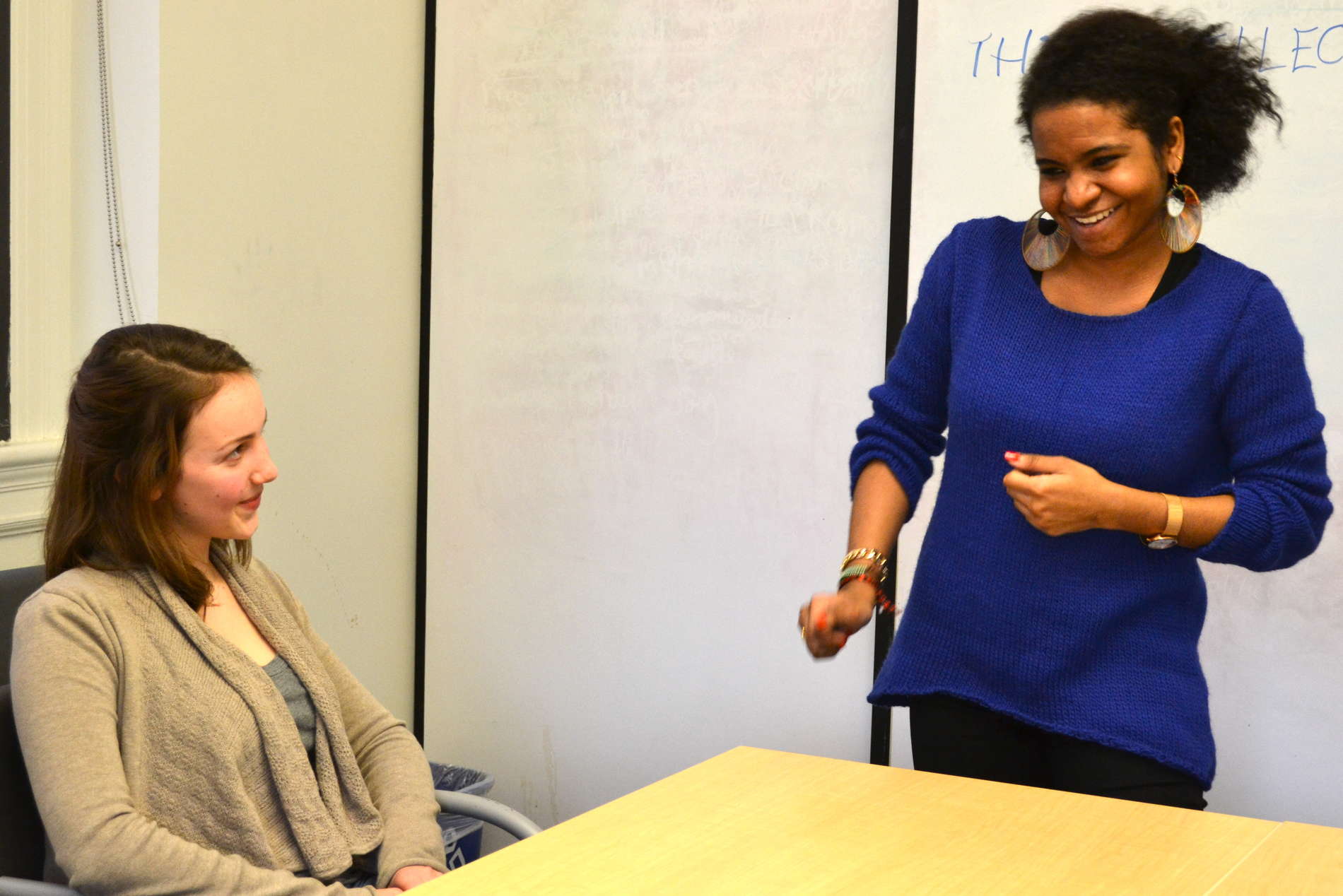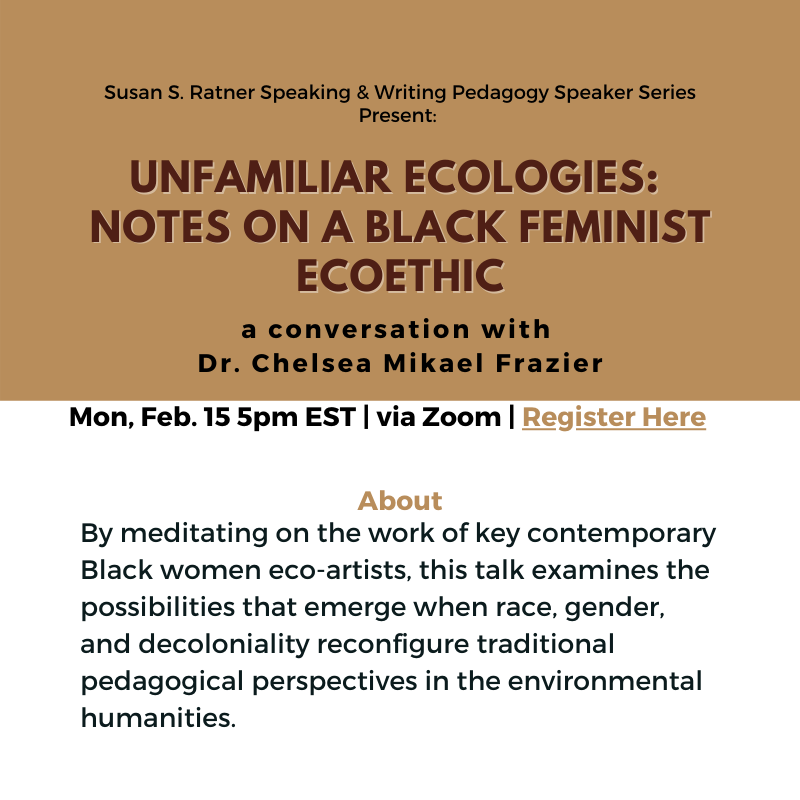 Speaking Fellows facilitate one-on-one and group workshops for students to reflect on their style of speech, use of verbal and non-verbal language, and to consider how they engage with and listen to their peers. We aren't here to prescribe methods of how to speak. We aim to assist your process of saying what you mean to a particular audience. 
Make an appointment in the Speaking Center
The Center runs Tuesday, Jan. 26 - Thursday, Apr. 15 (the last day of classes). It is closed: Monday, Mar. 1 - Sun. Mar. 7 for academic breaks.
Speaking Fellows work with students on a variety of skills, such as: organizing ideas, using visual aids, delivery, and combatting speaking apprehension. 
Barnard students interested in improving their speaking skills are welcome to sign up.  Columbia students may make an appointment with a Speaking Fellow for Barnard courses.
Virtual Tips from Speaking Fellows
Speaking Fellows offer a workshop series on how best to prepare for, participate in, and take advantage of all things virtual as it relates to all your speaking, presentation, and interview needs.
Unfamiliar Ecologies: Notes on a Black Feminist Ecoethic
Susan Ratner '86 Writing and Speaking Pedagogy Series Presents
In recent years, scholars have begun to pay more attention to the processes by which anti-Black violence, hierarchies of gender, and coloniality create and mediate the instability of global ecosystems. By meditating on the work of key contemporary Black women eco-artists, Dr. Frazier's talk examines the possibilities that emerge when race, gender, and decoloniality reconfigure traditional pedagogical perspectives in the environmental humanities.